The Highest Tandem Skydive in California!
Close to San Francisco, San Jose, Monterey, Santa Cruz, and the Bay Area
Silicon Valley Skydiving has been bringing the gift of flight to tens of thousands of people for over 25 years.
Our team of licensed tandem instructors will safely take you on the highest skydive in California!
Capture your once in a lifetime experience with the Video and Photo packages created by our professional videographers!
Why Choose Silicon Valley Skydiving?
Team of experienced USPA licensed instructors

Professional videographers to film your skydive

USPA dropzone for over 25 years
Highest Skydive in California

Longest Freefall in California
Our aircraft can carry large groups
No hidden fees
Close to San Francisco, San Jose, Santa Cruz

Nearest skydiving center from anywhere in the Bay Area

Stunning Views of the Bay Area
What Level of Skydiver are You?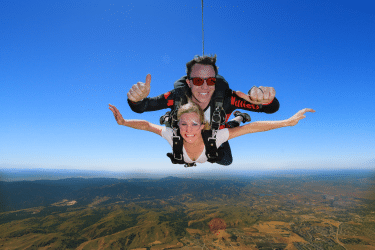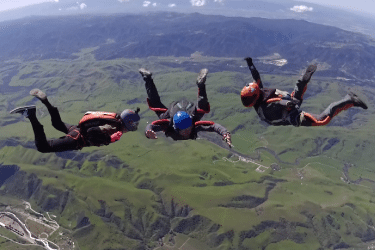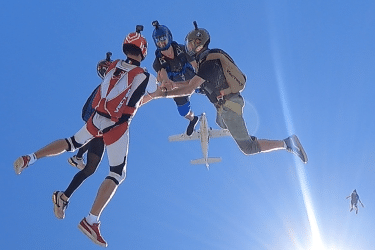 A
LIFE CHANGING
Experience
Welcome to Silicon Valley Skydiving, the premier San Francisco Bay Area skydiving facility.
YOUR CALIFORNIA SKYDIVE ADVENTURE STARTS HERE!
---
Skydive Silicon Valley is a unique VIP center for skydiving, conveniently located only 25 minutes from downtown San Jose, we are the nearest skydiving center from anywhere in the Bay Area. Operating for over 25 years, our dropzone offers a range of experiences whatever is your expertise.
Whether you're a fresh-faced skydiving newbie or a veteran of the skies, Skydive Silicon Valley and Silicon Valley Skydiving have something for you. First time skydiving? It's a tandem jump for you! Learn about tandem sky diving here.
Want to learn to skydive? We are an official USPA (United States Parachute Association) Training Center. Our AFF courses will prepare you for freefalling solo at any USPA DZ around the world. Learn about our Accelerated FreeFall programs here!
Experienced skydiver? We offer skydiving coaching, jump tickets, and gear rentals. We fly a PAC750XL that seats up to 16 so yes, there's always room for sport jumpers and we love to have you guys around. We even have a page for you too. Here it is.
In 2020, Silicon Valley Skydiving is becoming Skydive Silicon Valley, and we are beginning a new era of San Francisco Bay Area skydiving at our beautiful new location in the San Martin Airport. We're closer to SF than we've ever been! Under new ownership since 2017, Skydive Silicon Valley promises to offer breathtaking views, exceptional service, and unforgettable skydiving adventures! Learn more about the owners here.
If you live in the San Francisco Bay Area, Silicon Valley Skydiving and Skydive Silicon Valley makes skydiving in California easy and convenient. Located right at Highway 101, just 1 hour south of San Francisco, we are SF's closest tandem skydiving center. If you're ready for the adventure of a lifetime, let the highly experienced staff of professionals at Silicon Valley Skydiving and Skydive Silicon Valley get you into the air above the Pacific Coast. This is California skydiving at its best!
Our specialty at Silicon Valley Skydiving and Skydive Silicon Valley is the first time skydiving experience. If you search  "skydiving near me" to make your first jump, there is no better place to do it than here. Our experienced skydiving instructors, breathtaking coastal views and easy access from San Francisco, Monterey, San Jose, and Santa Cruz have made us the #1 choice for skydiving CA!
We believe that skydiving is a life-changing experience and our team is fully dedicated to provide you the ultimate experience. From your booking to your parachute landing, our USPA rated instructors and professional staff will take care of you and providing a safe and student-friendly environment. Also: bring your dog, we do!