Skydiving Near San Francisco
---
SKYDIVING NEAR THE BAY AREA
An easy, scenic drive from San Francisco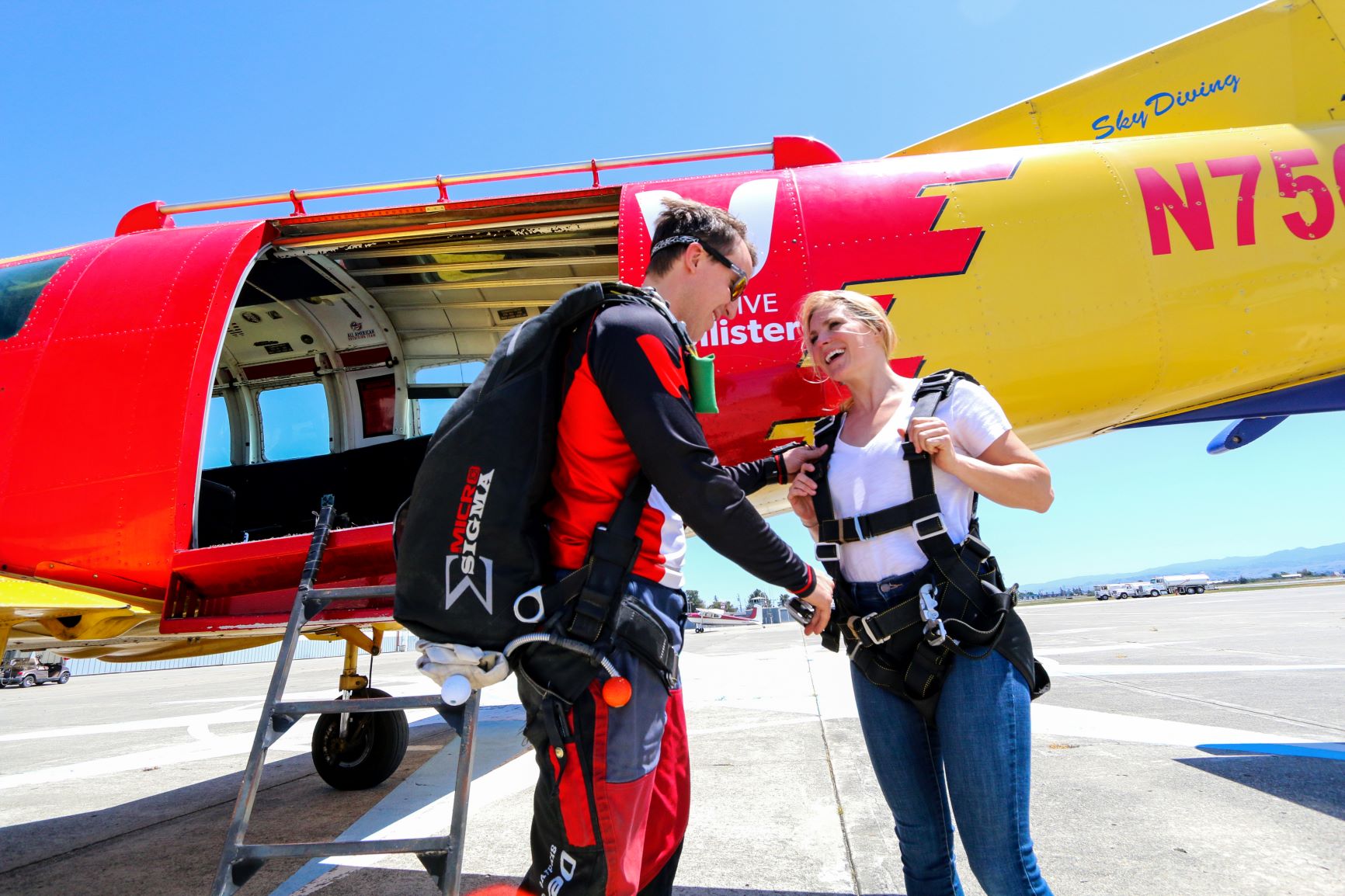 Hey! Apparently your search for 'skydiving San Francisco' or 'skydiving Bay Area' brought you here – Good click, Google pointed you the right way! And you're not the only one. We skydive with thousands of jumpers every year who were also wondering about going skydiving in San Francisco or the Bay Area.
My name is Ronald and I'm one of the founders of Silicon Valley Skydiving. My goal with this post is simple: help you to make an educated decision about where to go for your skydiving session.
With over 25 years of jumping experience; I've been from New Zealand to Dubai, from South America to the U.S. to jump. After visiting dozens of sky diving drop zones around the world, sometimes to compete others for record breaking attempts, or just to have fun, one of the things I learned is that what makes a skydiving experience really special, is the vibe and culture of the place. Of course there are a few other things to consider, especially with so many options for your California skydiving experience.
Before the start-up phase of Silicon Valley Skydiving I visited most of the skydiving centers near San Francisco and the Bay Area, and I learned that some of them are doing quite a good job. So let me offer you some points to consider based on my own experience. I'll score from 1 (less critical) to 5 (super critical) the most important factors to consider when choosing a place to go skydiving.
---
| Decision Factor | Score |
| --- | --- |
| Dropzone is a USPA Member | 5 |
| Customer Ratings & Reviews | 4 |
| USPA – Training Center Badge | 4 |
| Driving Distance | 2 |
| Price | 1 |
USPA is the United States Parachute Association: Whenever you decide to go skydiving you should ABSOLUTELY only consider a drop zone that is a member of USPA. To be USPA affiliated, a drop zone should commit and follow a comprehensive list of safety recommendations that helps their skydiving operation to perform according to the highest safety standards available. If you want to know a lot more about skydiving and these safety standards, visit uspa.org.
Reviews: This, in my opinion, is the best indicator about the overall service quality and vibe of a place. True reviews are the most candid and sincere opinions about a skydiving experience. Check here what our customers have to say about us. Those are words and stars from people just like you, who once wondered about going skydiving in the San Francisco Bay Area.
Training Center Badge: You might not be specifically interested in becoming a certified skydiver, but that doesn't mean that you should overlook this very special characteristic of a dropzone. When a skydiving facility is not a Certified Training Center, most likely you'll be looking at places which we call 'Tandem Skydiving Factory'. There's nothing unsafe about just being a Tandem Factory, but this will certainly affect the overall quality of your experience. Only a Training Center allows you to experience the whole and real skydiving vibe. It's a place where you'll be able to actually see other people skydiving near you. You may see a wingsuiter flying out right after you, or a solo student, graduating or taking the first solo jump. Learn more about it by reading our VIP Skydiving Experience article.
Driving Distance: Although this should not be your priority, it is always convenient when you find a place that has it all and is also close to home. On top of that, driving less also reduces the carbon footprint of your sky diving experience, not to mention the valuable time saving. I guess no many people enjoy wasting their time at the Bay Bridge traffic.
Price: That's a tough one – Less expensive jumps aren't necessarily less safe, although it's hard to maintain the same equipment maintenance and safety standards if the operation runs in a tight cash mode. But usually, that's a problem you won't even notice. Let me put it this way… I don't feel unsafe when I have to fly a low cost airline, but I certainly feel the low cost service. But when all you're looking for is to get from here to there, that might work for you. Relating this back to a tandem skydive experience, if all you're looking for is a picture for your next social media post and you don't care much about other factors surrounding your jump, you might be okay by choosing the cheapest option available.
---
TANDEM SKYDIVING JUMP IN THE BAY AREA
RESEARCH INFO
| Bay Area Skydiving Dropzones | USPA Member |
| --- | --- |
| The Parachute Center - Lodi | No |
| Bay Area Skydiving | Yes |
| Silicon Valley Skydiving | Yes |
| Skydive California | Yes |
| Skydive Surf City | Yes |
| Skydive Monterey Bay | Yes |
Prices for Skydiving Near San Francisco
There's no doubt that there's a lot of competition for the California skydiving market. Great for the customer's pocket, not so great for their experience. Keep in mind that skydiving is not a simple operation, on most places you'll be flying on a $1.5 million airplane and jumping a $15K parachute system, controlled by and experienced instructor that trained for at least 2 years and did more than 1,000 jumps to be able to provide you a safe skydiving experience.
Silicon Valley Skydiving is not the cheapest place, and we never had the intention to be. Our prices are above the average as well as our service. On Google we're the best rated place to go skydiving near the Bay Area, 4.9 Stars from over 950* Reviews. This is the result of a dedicated and passionate team and an impeccable safety record. *(as of July 4th 2022)
To help on your research, the table below allows you to quickly browse through the prices and service quality from the main places to go skydiving near San Francisco.
TANDEM SKYDIVING PRICES AROUND SAN FRANCISCO
| Bay Area Skydiving Places | Price per Jump - 13,000ft | Google Rating and Reviews |
| --- | --- | --- |
| The Parachute Center - Lodi | $150 | 4.4 Stars / 542 Reviews |
| Bay Area Skydiving | $219 | 4.9 Stars / 271 Reviews |
| Silicon Valley Skydiving | $228 | 4.9 Stars / 834 Reviews |
| Skydive California | $229 | 4.9 Stars / 321 Reviews |
| Skydive Monterey Bay | $219 | 4.5 Stars / 327 Reviews |
WHY CHOOSE US?
If you're not sure yet and still want to search for a skydiving place near San Francisco and Bay Area, the fact is that you won't find any. All skydiving activity around San Francisco has to be away from the city boundaries due the high traffic from SFO and SJC airports. Because of this, most drop zones are around 1h away from downtown San Francisco, and some are over 1hour and 30 minutes driving. Silicon Valley Skydiving is conveniently located south of San Jose. Just hit Highway 101 and you'll be at our place in less than 1 hour. 
READY FOR A LIFE CHANGING EXPERIENCE

If you are looking for a true skydiving experience that will create life lasting memories of joy and fun, we hope you consider us to be the ones to share this moment with you. Come and meet some amazing people, passionate about flying and all life has to offer. If you're ready to be part of these and step out of your comfort zone; We got your back…. Literally.
OUR LOCATION
Search as much as you would like, but unfortunately you are not able to Skydive inside the San Francisco city limits. We would love to tandem skydive in to San Francisco too, but the airspace is very busy because of the SFO, SJC and OAK airports. Silicon Valley Skydiving is located at the San Martin Airport, right off US-101.