California Skydive Pricing | Tandem Jumps
If you're looking for the best Bay Area skydiving prices available, Skydive Hollister offers several packages for you based on your ideal experience. You can experience the most excellent first time skydiving around: up to 90 seconds of freefall at 18,000 feet, which is the "World's Highest Tandem Skydive," or you can enjoy 50-60 seconds of freefall on our 13,000 foot "The California Top Tandem Skydive" (we also offer a very basic "Canopy Ride Tandem" with only 10 to 15 seconds freefall, priced starting at $158). You can also select our VIP skydiving package, which includes the highest altitude tandem along the coast, along with priority boarding, and a special gear store gift. Regardless of which package you choose, you'll get some of the best skydiving California prices with your experience.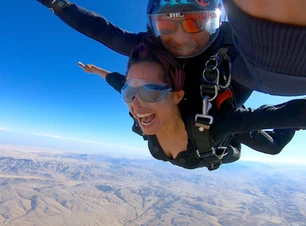 18K | Highest Altitude Tandem Skydive
The World's Highest Tandem Skydive from 18,000 feet is the BEST skydive in the whole San Francisco Bay Area! Soar in freefall for a minute and a half all the way from the top.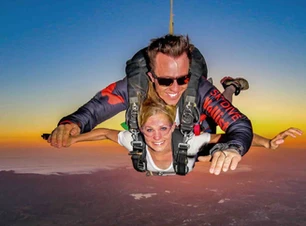 13K | California's Top Tandem Skydive
Freefall for a minute after jumping out of our plane at 13,000 feet! See the Santa Lucia Mountain Range, Golden Gate Bridge, and Monterey Bay coastline.
Starting at: $228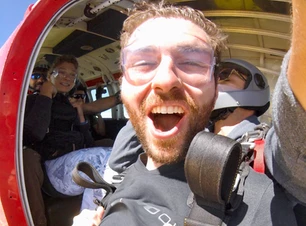 8K | Canopy Ride Tandem Skydive
Freefall for 10-15 seconds over the San Andreas Fault with our 8,000′ basic tandem skydive.
​Starting at: $188
   On your first jump, we literally have your back. Your first skydive will be a tandem jump. You will be attached via four-point harness to a professional tandem instructor. After free falling for up to 90 seconds and taking in the incredible California coastal views, your tandem instructor will deploy the parachute at around 5000 feet above the ground. The fun continues with a 5-7 minute (depending on winds) scenic parachute ride and a smooth, easy landing.
  The best way to experience your first jump is through tandem skydiving. You'll get to experience both freefall and parachute descent in the safest environment; a taste of all of the best skydiving has to offer. You are to be an active participant in the jump, flying your body through the air in tandem with your flight instructor.
  Tandem skydiving is like jumping with training wheels (kind of), but instead of wheels you have an actual training person. Your first tandem skydive enables you to fully participate in the entire experience while not needing to worry about knowing everything that's going on. Your instructor provides the necessary safety controls so that you can focus on a fun, stress-free, amazing experience.
---
Tandem Skydiving Prices
| Skydive Option | This Skydive Includes: | Skydiving Price |
| --- | --- | --- |
| 18,000 ft High Altitude Tandem Jump | All the way up in the sky OVER 1 MINUTE in freefall. | $338 | $298* |
| 13,000 ft Tandem Sky Dive | Fly high and freefall for almost 60 seconds. | $228 | $208* |
| 8,000 ft Tandem Skydive | Quick ride with 15 seconds of freefall. | $188 | $158* |
| *Weekday Deal | Discount on regular prices for weekday jumps. | |
| Media Bonus Credit | All jumps include $20 pre-jump bonus. Expires after the jump. | |
| Features | All options includes: Ground Training, Complete Gear, Digital Certificate. | |
Discounts on Skydives
| Discount For: | Discount Amount | Description of Qualifications |
| --- | --- | --- |
| First Responders' Discount | $10 | For the police officers, EMTs, and firefighters that we can always count on, we thank you! Valid Service ID Required on booking and check-in. |
| Military and Veterans Discount | $10 | Valid Service ID Required on booking and check-in. And thank you so much for your service! |
| Student Discount (Current Enrollment) | $10 | Valid Currently Enrolled Student ID Required on booking and check-in. Must display semester date(s). |
| AAA Discount | $10 | AAA Members save on skydiving in Hollister! Membership ID card required. |
| Group of 4-7 | $10 | Discount per person. |
| Group of 8-11 | $20 | Discount per person. |
| Group of 12+ | $30 | Discount per person. |
| Discount Terms | | Discounts can only be applied to full price purchases. Maximum of 2 discounts can be combined. |
Tandem Skydiving Prices
| Skydive Option | This Skydive Includes: | Skydiving Price |
| --- | --- | --- |
| 18,000 ft High Altitude Tandem Jump | All the way up in the sky OVER 1 MINUTE in freefall. | $338 | $298* |
| 13,000 ft Tandem Sky Dive | Fly high and freefall for almost 60 seconds. | $228 | $208* |
| 8,000 ft Tandem Skydive | Quick ride with 15 seconds of freefall. | $188 | $158* |
| *Weekday Deal | Discount on regular prices for weekday jumps. | |
| Media Bonus Credit | All jumps include $20 pre-jump bonus. Expires after the jump. | |
| Features | All options includes: Ground Training, Complete Gear, Digital Certificate. | |
Discounts on Skydives
| Discount For: | Discount Amount | Description of Qualifications |
| --- | --- | --- |
| First Responders' Discount | $10 | For the police officers, EMTs, and firefighters that we can always count on, we thank you! Valid Service ID Required on booking and check-in. |
| Military and Veterans Discount | $10 | Valid Service ID Required on booking and check-in. And thank you so much for your service! |
| Student Discount (Current Enrollment) | $10 | Valid Currently Enrolled Student ID Required on booking and check-in. Must display semester date(s). |
| AAA Discount | $10 | AAA Members save on skydiving in Hollister! Membership ID card required. |
| Group of 4-7 | $10 | Discount per person. |
| Group of 8-11 | $20 | Discount per person. |
| Group of 12+ | $30 | Discount per person. |
| Discount Terms | | Discounts can only be applied to full price purchases. Maximum of 2 discounts can be combined. |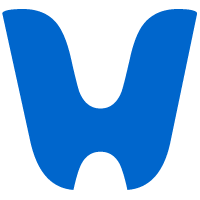 Office - Everyday 10:00am to 4:00pm
Flights - Friday to Monday 9:00am to 6:00pm