Skydiving Near San Jose
---
SKYDIVING NEAR THE BAY AREA
ONLY 25 MIN DRIVE FROM SAN JOSE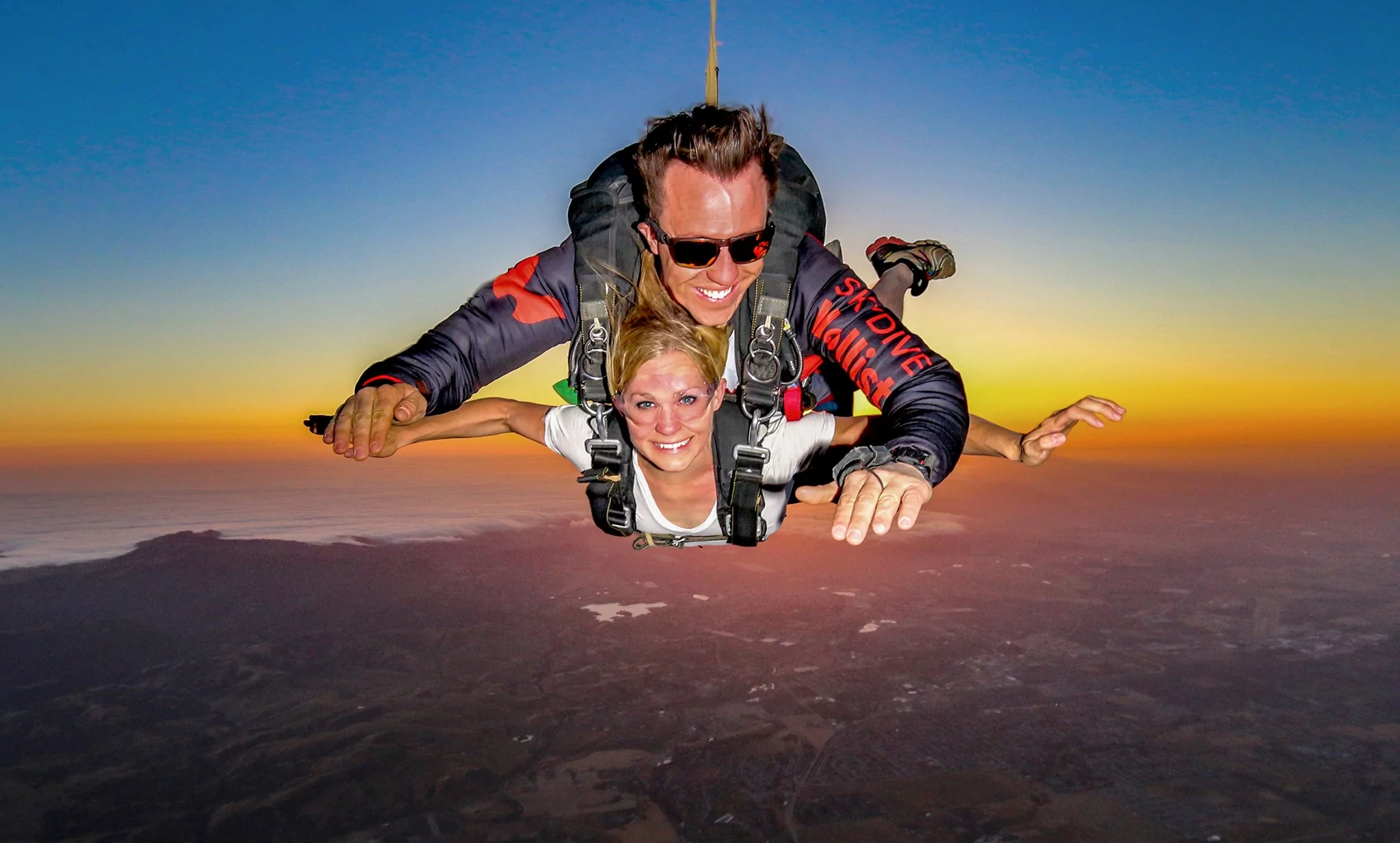 Welcome to Silicon Valley Skydiving! It looks like you've been searching for skydiving San Jose or skydiving Bay Area – congratulations, your search pointed you the right direction. Conveniently located at the San Martin Airport we're only 29 minutes from San Jose, making us the closest skydiving facility near San Jose and the SF Bay Area!
Silicon Valley Skydiving is one of the best dropzones offering tandem skydiving in California, San Jose and the Bay Area, and we are thrilled to invite you to check our Google Reviews and see how we stand out. Want to know why we're different? Check out our VIP Skydiving Experience, and find out what that means to us. You only have one first time jump experience, and it should be unforgettable.
Below we share the things you should know when selecting a dropzone.  This includes what to know before booking a tandem skydive, and how to compare prices and distances for skydiving in the San Jose area.
WHY WE STAND OUT?
25+ YEARS OF EXPERIENCE AND AMAZING CUSTOMER SERVICE
Back in 1996 was when drop zone owners Ronaldo and Vitor started their skydiving career. They've been both involved in the skydiving sport and industry ever since, not only jumping but working with first jump skydive students, advanced skydiving students, jump records and world championships. Having most of their life dedicated to skydiving both dropped their careers as big corporate officers and engineers, to move and skydive in California, and to become full time skydiving entreprenuers.  
WHAT YOU WANT TO KNOW BEFORE BOOKING YOUR TANDEM SKYDIVE EXPERIENCE
In our VIP Skydiving Experience article we compare skydiving centers with restaurants, and they are similar on some level in regards to the customer experience aspects. Just like restaurants, some skydiving places are nice, while others stand out. With our time and experience we know for a fact that, for most people, their first skydive experience becomes a major event in their lives. We know that a great tandem skydive is far more than getting out of a flying airplane, just like an amazing dining experience goes afar the food taste and the check amount. Unused to all the aspects that involve a great skydiving experience, many first time jumpers are inclined to book their tandem skydives based solely on price and distance, usually choosing the closest and cheapest offer. Although distance only plays in your favour, price will certainly not be like that. Our opinion is; Do you research, check reviews. Yeah, do just like we do on online dates nowadays … silly! Online-stalk them and you'll quickly get a very good perspective of their vibe and culture.
SAN JOSE – TANDEM SKYDIVE PRICES
California has been one of the nests of parachuting and skydiving since the activity became available to civilians, this caused many drop zones to be opened in the state, elevating the competition level. While the tandem skydiving price averages at $259 across the United States, skydiving in California and in the Bay Area has an average price of $199. Although skydiving cost is similar to every business and this seems to be only good for the customers, you should have in mind that the price will translate into the type of experience you'll get, and make sure you're aware of their extra fees.
Our skydive prices near San Jose, places Silicon Valley Skydiving on the same level as our competitors, although we have no hidden fees and our price point allows everything and everyone to be well taken care of.
To help you with your search for how much it is to skydive, you can check the table below. It shows prices and distance from Downtown San Jose to the main skydiving facilities in the area..
| San Jose Area Skydiving Centers | Distance | Price |
| --- | --- | --- |
| Silicon Valley Skydiving | 26mi (25min) | $228 |
| Skydive Surf City | 45mi (1h 02min) | $229 |
| Bay Area Skydiving (Be Aware of the Surcharges) | 61mi (1h 03min) | $219 |
| Skydive California | 67mi (1h 09min) | $229 |
| The Parachute Center – Lodi | 94mi (1h 35min) | $150 |
OUR LOCATION
Search as much as you would like, but unfortunately you are not able to Skydive inside the San Jose city limits. We would love to tandem skydive in to San Jose too, but the airspace is very busy because of the SFO, SJC and OAK airports. Silicon Valley Skydiving is located at the San Martin Airport, right off US-101.  
READY FOR A LIFE CHANGING EXPERIENCE?
If you are searching for a life changing experience near San Jose, we would love if you would consider Silicon Valley Skydiving to be part of it.  We will share our passion for the sport with you.