Meet the HolSky Bunch – DZM Vitor "Vitaum" Tamarozi
---
In 2017, Vitor Tamarozi made his way to the United States to embark on his journey of owning a Dropzone. He, along with Ronaldo Tkotz, now owns Silicon Valley Skydiving, formerly known as Adventure Center Skydiving. Vitor is our Safety and Training Advisor, he's one of our D-Licences Instructors and has all of the following ratings; T.I + AFF + COACH + S&TA.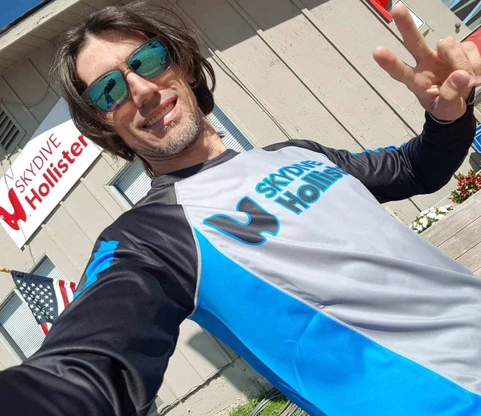 Q&A
Why do you skydive?
It started as a hobby, I always dreamed of flying and going to space, and skydiving fulfilled most of that. Still dreaming about space, though… =/
​How old were you when you made your first jump?
November of 1998, 18 years old.
​What's the highest altitude you've jumped from?
The Highest was 20,000ft for big way formation record jumps.
When did you realize you enjoyed skydiving enough to do it as a living?
In 2001 we were running our own DropZone (Ronaldo, myself and two other friends) at Londrina, our hometown in Brazil, not as a main occupation though, but as a business still.
How many jumps you do in a year?
Around 500, it varies a little, and not going hard at it…
​Have you ever been in a situation where you've feared for your life? If so, why?
I fear for my life every jump and that keeps me aware, prompt, and safety oriented, for that I've been having a very positive career so far, and never had anything happening where I felt grasping for luck.
If you had one word to describe free-fall, what would it be?
Freedom.
​What has been your most memorable jump to date?
Not one, since there are so many aspects to skydiving. Like my first time, first competition, first record, celebrating round numbers as 100's, 500's, 2,000th's, getting ratings are always very memorable, and can't leave out wingsuit jumps.
​If you could pick one person to skydive with, who would it be and why?
I can't just think of one person, I'd love to take all my family on a skydive. Not everyone up for it though… =0
​What would your "Dream Skydive" be?
The next jump!
What is your favorite part of the sport?
The apparent endless possibilities for different techniques and improvement.
What other hobbies do you enjoy outside of skydiving?
Sport bike racing, tennis, inline skating, and soccer ate the min ones. Outside of sports I enjoy LEGO, computer programming and gaming, also home improvement.
What type of work did you do before skydiving?
I owned a growing tech company for 15+ years, acting as head of Technologies and Engineering.
How does your family feel about you being a skydiver?
They are proud and supportive of me. Took my wife, mother and sister on jumps already, also my dad on some flights.
​If you had any advice to anyone else thinking of getting into skydiving what would it be?
Go for it… Smile and have fun! =D
Office - Everyday 10:00am to 4:00pm
Flights - Friday to Monday 9:00am to 6:00pm